big bellies & beautiful babies
maternity
Maternity sessions can be in my Malvern studio or on location, and should be photographed between 32 and 36 weeks into your pregnancy.
At the studio I have backdrops and lights for dramatic imagery, as well as outdoor historic grounds for environmental portraits. You can also choose to have the photos taken at a special spot to you and your significant other.
Kids and pets are welcome to join in on the photo session too!
Check out this behind-the-scenes video of a Maternity Session in Central Park, New York City to get the feel for an on-location pregnancy session.
newborns
Newborn sessions are usually done in my studio, when the baby is between 5 and 15 days old (Except in the case of premature babies, which will be older).
Newborn photo sessions tend to last about 2 hours, with breaks for nursing or bottles, diaper changes, and some time to rock him or her to sleep.
Siblings and parents are invited to join in for a few photos– it's important to document this crazy and special time, even if you don't feel "camera ready!" I will use proper lighting and some photoshop to help create an image you will truly love.
I have everything needed for newborn boy and girl portraits, but you are welcome to bring some outfits, blankets, or props of your own if you have something you'd like to use.
I do have a big collection of bows, knit hats, outfits and pants, swaddles, blankets, and furs in a variety of colors.
Lifestyle sessions can be taken in your home, without props or fancy posing. These portraits are more naturally posed, usually featuring mom and dad cuddling the baby in your home, the newborn(s) asleep in their crib, or the infant with a stuffed animal or the family dog!
Lifestyle sessions are not photographed on backgrounds – your home is the background. If you want me to come to your home with the backdrops and lights, and set up a mini studio in your home, it is an additional $100. Otherwise, the session fee for a studio session or in-home session is $95. The session fee does not include your digital images, but they are available to purchase as individual images or the entire collection.
Your photos will be posted on a private, password-protected proofing site about a week after the session. From there you can choose your favorite photos to print as enlargements, wall canvases, or put together in a custom designed, hand-made album.
All photographic prints and albums are made in the USA at professional labs and binderies, and greatly surpass the quality of most internet albums and prints widely available these days.
If you'd like to book a newborn session, it is best to contact me before you give birth and we can tentatively put you on the schedule based on your due date.
Once your little one arrives, we will schedule it for when he or she is about a week old (between 5 and 15 days old is the best time for a sleepy and pose-able newborn).
I'm happy to answer all your questions anytime. Or you can check out my session files and print pricing.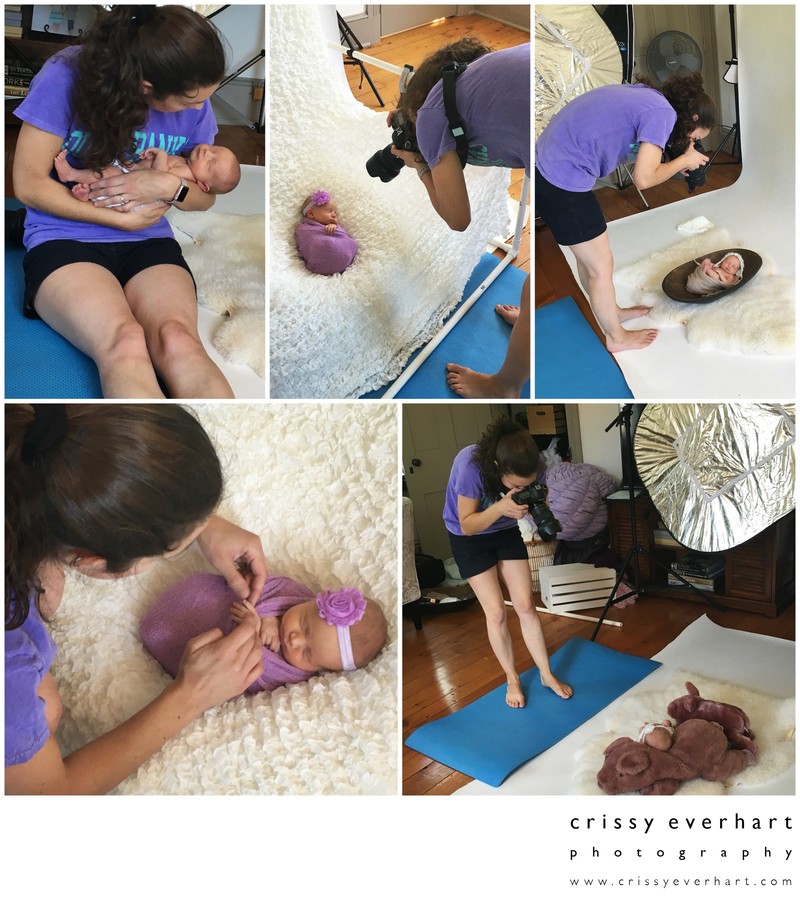 locations
Images in this gallery were taken at my Malvern portrait studio. Some newborn images were photographed in their homes. Most of my clients span the Chester County, Delaware County, and Montgomery County areas of Pennsylvania, specifically Paoli, Malvern, Berwyn, Downingtown, Phoenixville, Exton, and West Chester.
I photograph a lot of babies who were delivered at Paoli Memorial Hospital, Chester County Hospital, and the Bryn Mawr Birth Center.
Maternity sessions in this gallery were taken at Ridley Creek State Park, Media, PA; Central Park, New York City; Ocean City, New Jersey; Prophecy Creek Park, Ambler; Belmont Plateau, Fairmount Park, and Philadelphia.