about crissy everhart
my life, without the camera
Sarcasm is my second language, and I love to make people laugh!
I love traveling and getting out in nature, and my family and I enjoy cross-country drives and visiting as many National Parks and landmarks as possible.
Sunflowers and honeybees are my favorites.
I thrive on music and listen to it for hours a day. Mostly 90's rock... Metallica!! Also, Taylor Swift, Billie Eilish, Run the Jewels, and a vast assortment of other artists from every genre.
I am a Crime Junkie (best podcast ever) and love true crime. Once, my front door camera caught an armed robbery suspect across the street, and I was basically a detective.
I fiercely believe in equality for all humans, preserving our planet, and saving our wildlife and animals.
My dad, Don Everhart, was the chief engraver for the U.S. Mint in Philadelphia, and he sculpted a coin of a photo I took of my husband's hands holding my son. Not only is my child the only living human on U.S. Currency, but the medal won an International Award for "Most Inspiring Coin" at the 2017 World Money Fair. Now my other son wants to know when he will get a coin.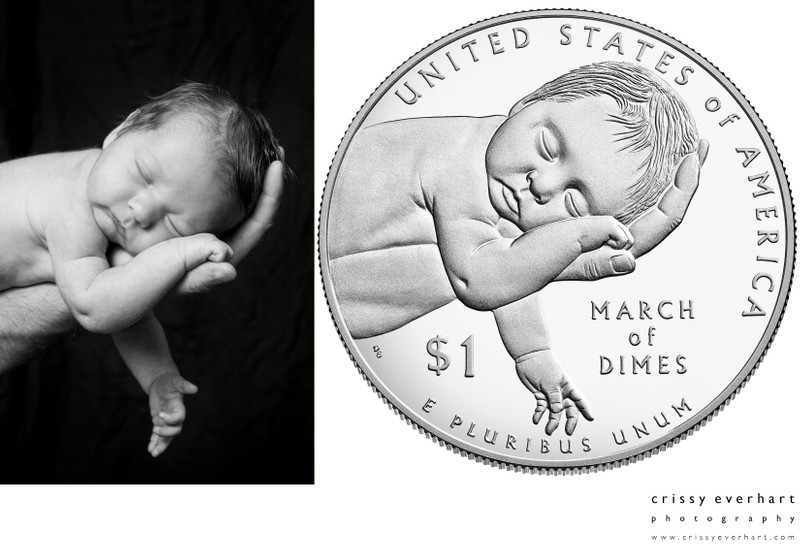 I don't drink coffee, and I rarely have a soda, but I am addicted to iced tea—specifically, Peach Snapple. You will rarely see me without it.
I'm a typography nerd — I love laying out text — and a font snob. I am also a grammar nerd, and I fully support the oxford comma. I do website copywriting as a side hustle, and I enjoy SEO.
I have a messy desk, but my computer files are meticulously arranged and backed up in multiple places, going back over a decade.
I lived in Florida for two years, and have a photo album of alligators that lived in my front yard.
I have two crazy and adorable boys who crack me up every day. My oldest is 13, and my youngest — born on my 29th birthday — is 11.
I have two kitties, Moose and Maxey. I used to have rabbits and chickens, too. I've been called "Snow White" because I need all the animals around me. I also am pale with dark hair, and I like apples. So it fits.
my photography timeline
Photography has always been part of my life. I took my first landscapes on disk film when I was five years old on a trip to Colorado and fell in love with being able to capture those sights and memories onto something tangible. I still have those prints and film disks today!
In high school, I always had a camera, and I literally tiled the walls of my room with thousands of 4x6 snapshots of my friends, pets, and basically everything that ever happened. The local mall opened a national chain portrait studio in my senior year. I worked there for a few years as an assistant manager and photographer, and this is where I fine-tuned my skills in photographing children. I wore the rainbow hat with the spinner on top and photographed hundreds of families in the front window of the Exton Mall Picture People.
In 2000, I graduated from Henderson High School in West Chester and began attending the University of the Arts in Philadelphia to get a photography degree. After the "foundation" freshman year at UArts, I decided that maybe a photo degree wouldn't be as economically useful and declared my major as graphic design. While learning Photoshop, hand lettering, and web design, I continued taking photography and printmaking classes. I loved college!
In 2002, I left my mall job and began working as a wedding photography assistant at a local photography studio. I immediately loved the wedding atmosphere and quickly moved to a second photographer position, which I did for about 2-3 years before becoming the principal photographer at each event.
After I graduated college in 2004, I couldn't enjoy myself in the corporate design environment, so I went full force into photography. I started working full-time at the photography studio that I was still shooting weddings for, as the Director of Digital Imaging. I ran their digital media department during the film-to-digital crossover, and I imported, edited, and proofed over a thousand weddings from a team of photographers. I continued to shoot about 30-40 weddings per year for them for almost a decade until I started getting more and more requests to do it on my own.
I officially incorporated and opened Crissy Everhart Photography in 2011, and I am happier now with my career than ever before. I have the most amazing clients who continue to hire me to document their growing families, and I am honored to do so.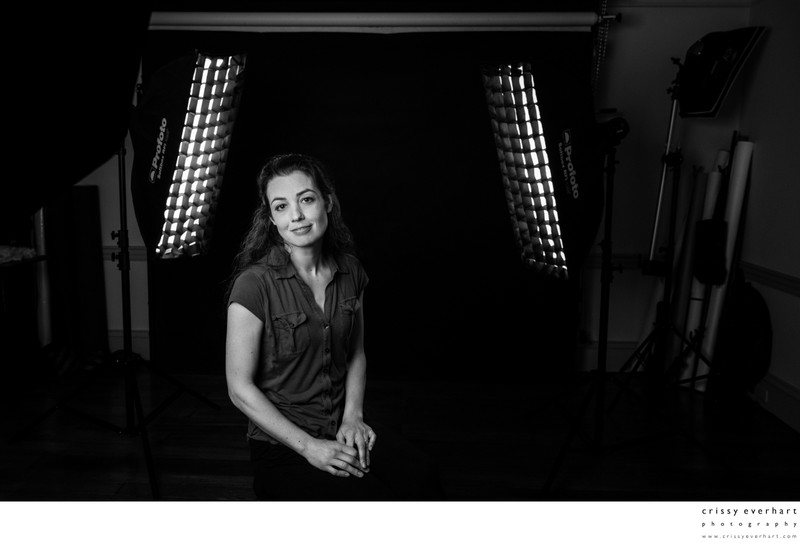 In 2016 I found an office for rent at Historic Sugartown in Malvern that was perfect for a small studio. Having a studio space was exactly what I needed, and I quickly outgrew the one-room rental. A spot on the same property, but in a building by itself, opened up in early 2018, and I snatched it up before it even went up for rent. I moved in there and now have 2,000 square feet of studio and office space, plus the same gorgeous property with historic structures that I had fallen in love with over the previous two years. I am fortunate to have such a fabulous space and couldn't think up anything much better if I tried.
In the last few years, I have focused a lot of time and attention on corporate photography, and I now capture headshots for 200+ businesspeople annually, in my studio or at their workplace. Years of posing families have graced me with the ability to quickly and easily know how to photograph each subject to show off the best version of themselves.
Since the late 1990's, I have photographed thousands of portrait sessions and over 400 weddings – indoor, outdoor, big, small, budget, luxury, local, destination, second weddings, third weddings, Catholic, Jewish, Methodist, Presbyterian, Protestant, Quaker, Hindu, Filipino, mixed-religions and ethnicities, non-denominational, and same-sex weddings. I love the variety of people I get to meet and seek to document the emotions, connections, and families that I encounter.
This truly is what I love to do, and I am thankful every day that I get to do it.