philadelphia area wedding ceremonies
Wedding ceremonies are the reason for the day, and can vary from a quick, non-denominational five-minute ceremony to the standard, one hour Catholic mass, to a several hour (or day) Indian celebration. Many couples choose to have their ceremony in the same location as the reception, and others have a church or synagogue ceremony and then a separate site for the party. Different religions have different "rules" for the photographer, and I make sure to follow the house rules. Greek weddings expect the photographer to be on the altar with them, and many Presbyterian priests prefer little to no photography at all. Whatever your ceremony will be like, you can rest assured that I will not be the center of attention– I will be as inconspicuous as possible while capturing the day's events and the people celebrating you.
I am always happy to answer any questions you may have, including recommending some reputable wedding vendors in the area. You can also view my wedding collections and pricing here, and if you like what you see, let's meet at my studio in Malvern so I can show you some sample albums and we can get to know each other!


my thoughts on photographing the formals before the ceremony
I know not everyone is open to the idea of seeing their fiancé before that emotional walk down the aisle, but hear me out on why it's worth considering. More and more couples are choosing to get their photos "out of the way" before they take their vows, and then it's party time for the rest of the night. If your ceremony and reception are several hours apart, then you probably have ample time in between, but if your ceremony and reception are back to back at the same venue it's wise to consider doing the formal photos before saying "I do."

Your hair, make-up, dress, and everything are freshly done and you look your best.
Why wait until after you cry to get your portraits? And I'd be lying if I didn't say that the white dress gets the dirtiest in the church. I swear these venues wait until they have a wedding for the floors to be swept- and the girl with the long train is the one doing it. But seriously, you pay to get all done up, why not get the photos taken when you look fresh?

The "first look" shots are often some of the best of the day!
I LOVE the shots of the bride and groom seeing each other for the first time in their wedding attire. When you see each other we can set it up to be private or with the families or wedding party present. At the reveal, you have the opportunity to kiss, hug, talk and spin to show off your dress- you can't do that at the front of the aisle! You can spend a minute or two together, just taking it all in, either just the two of you or with your wedding party and families present. These are often some of the most "real" shots of the day, and it's a special moment you and your fiance share together. I promise you, that walk down the aisle is still emotional and surreal.

Why try to cram hours of photographs into cocktail hour?
A typical wedding should allow about 2 hours for formals, more if the families or bridal party have a lot of people. Trying to squeeze all the photos into cocktail hour may be possible, but your photographer is stuck shooting just the necessary group shots, and you often don't have time for artistic or fun photos, and the entire process will feel rushed. Not to mention you miss out on the hors-d'oeuvres! When formals are done beforehand there may be a few quick shots to take during cocktail (for example, if Grandma and Grandpa weren't there earlier in the day) but then you are free to get the dress bustled, mingle with guests, and relax and enjoy being a newly married couple!
Another important aspect to this is daylight- in winter weddings the sun sets early and doing a first look before the ceremony is often the way to go for single venue events, and even for weddings that don't have much time between the ceremony and reception (or have a lot of traveling). Speaking as a bride, my husband and I did this at our wedding in 2004 and it made the day go much more smoothly. Plus, you actually get much more time to mingle with your guests. I have never, ever even once had a couple say they wish they DIDN'T do formal photos first- in fact, many have said that they are so glad they did it and if any other couples ever need convincing to give them their number.
That being said, as your photographer I am here to serve you and do what YOU want on your wedding day. If you always envisioned seeing your groom at the end of the aisle for the first time, then we will discuss the timeline and how to best make it work, and your photos will still look great!
Regardless of your decision, I am always happy to help with timeline planning, so feel free to call or email me.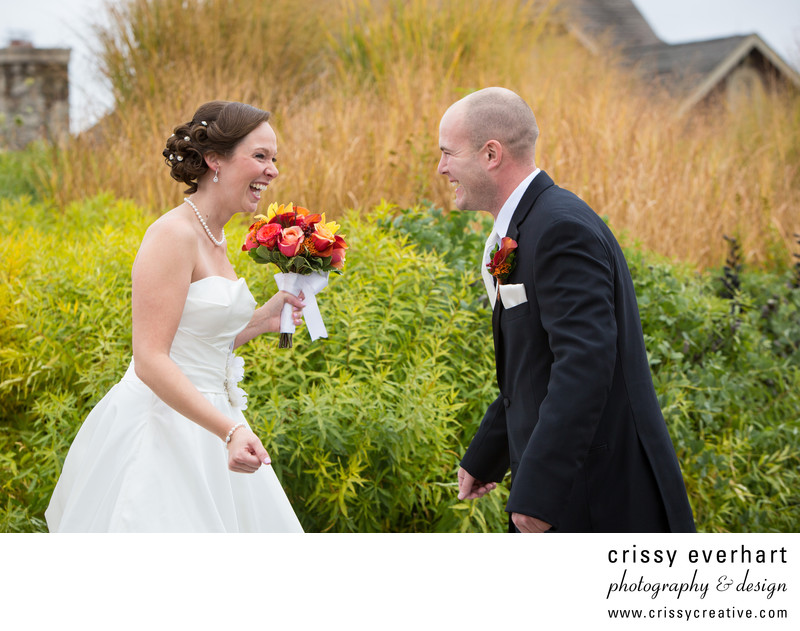 Venues in this gallery:
Free Library of Philadelphia, The Basilica of Sts Peter and Paul, Elmwood Park Zoo, St Charles Borromeo, the Washington at Historic Yellow Springs, Brigalias, St Anthony's of Padua in Wilmington, Race Street Pier, St Patricks Church in Malvern, St. Augustine in Philadelphia, St Simon and Jude in West Chester, Tyler Arboretum, Penn Oaks Golf Club, Central Park Conservatory Gardens in NYC, The Gables at Chadds Ford, Kreutz Creek Winery, Ridley Creek State Park Mansion, Oberod Estate, the Down Town Club, Queens Country Farm, Drexelbrook Caterers, Kimberton Inn, Renaissance Island Destination Wedding in Oranjestad Aruba